Four Ways to Brighten Your House During the Darker Months
Though it happens every year, earlier sunsets and shorter days always seem to throw people for a loop each winter. However, with a few simple indoor lighting tricks, the winter shift doesn't have to be so drastic for you. Consider these four easy lighting hacks to create a warm, bright, and cheery living space all winter long:
1. Warmer, Not Brighter

Many people try to compensate darker days by finding the brightest lights they can find. This isn't always the best idea, as brilliant, fluorescent lighting can be harsh and just as uninviting as darkness. Try daylight LED bulbs to closer mimic the daylight you're missing so dearly. You may also want to look for LED bulbs that offer a dimming option, giving you options to change lighting throughout the day.
2. Neutral Earth Tones

During the darker months, adjust the colors and tones in your home to better reflect and absorb light. Earthy tones and elements absorb lighting and keep the ambiance warm and neutral. When you are spending less time outside, it can be comforting to bring in outdoor colors and elements into your home.
3. The Placebo Window

How can you make a room with little to no windows feel naturally bright? Simply pretend you do have windows! Try hanging curtains in an area where you wish you had a window. You can even place string lights or hanging lighting behind these curtains to fake the appearance of sun. This trick may sound silly, but many people have found comfort in the illusion of a window. Try it to see for yourself!
4. Open Flame Candles

Candles are a great way to bring warmth into your home. Soy candles are a good investment as they burn slower than traditional wax candles and have a longer flame life. If scented candles aren't your thing, votives placed in glass holders are a great way to bring in a relaxing flicker light.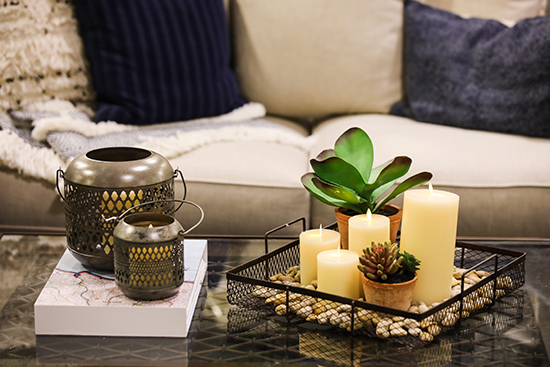 If you're fighting cabin fever this winter, come find the cure at the
Virginia Home Show
Presented by Trane on January 26-27, 2019 at Meadow Event Park in Doswell, VA. Shop, compare, and save with more than 150 local home improvement experts all under one roof. Get some inspiration for your next DIY project or chat with an expert to help you get started.
Orderyour tickets online today to save $2.
Jan 23, 2019, 21:51 PM