Quick Tips to Refresh Your Kitchen
Besides boosting resale value, upgrading your kitchen has also been proven to encourage people to live healthier lifestyles. When you have a visually appealing kitchen, you want to spend more time in it. This means more home cooked meals, which is great for both your body and wallet. Check out all of these tips and tricks to make your kitchen feel more welcoming this winter:

Lighten Up
Add some lighter colors to your kitchen. Studies show that light colors not only make spaces seem larger, but that colors like blue actually promote happiness. Why not have your kitchen be the happiest place in your home?

Get Pulled into the New Season
Instead of updating your cabinets or drawers, try updating their hardware. We recommend picking relatively neutral pulls, since too individualized ones can get old quickly. While you might like those cute little fork-shaped drawer pulls in store, we highly doubt they will seem so cute when they stab you in the hand every time you try to open the drawer. Brushed nickel always proves to be a classy option, while leather hardware is especially in style this season.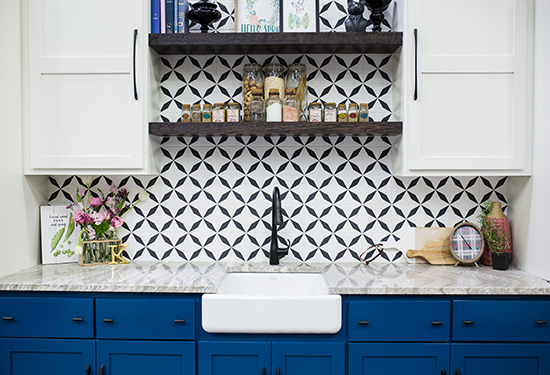 Brighten Up
Does your kitchen feel dull? Add a new light fixture to brighten up your space. Change out your old chandelier for a new modern one, or if you would rather have an more temporary adjustable light source, install a Himalayan salt lamp. These lamps are believed to cleanse the air around them and they help ground the space with their rough texture and soft ambient light. They provide adjustable muted light and are available in a full range of colors, shapes, and sizes. Just make sure to keep them nice and dry since they are made of salt!
Add a Backsplash

If you home doesn't already have one, backsplashes are a great way to make a space your own. Bold patterns are in this year, so make your kitchen your own with a fun pattern that matches your current aesthetic! Can't commit to just one? Buy some tile decals! They are easily removable and come in a wide range of patterns and shapes!
For more tasty tips to update your kitchen, check out the
Virginia Home Show
Presented by Trane on January 26-27, 2019 at Meadow Event Park in Doswell, VA. Shop, compare, and save with more than 150 local home improvement and kitchen renovation experts all under one roof.
Order your tickets online today to save $2
.
Jan 24, 2019, 15:31 PM